Application Process
Parents considering enrollment at St. Mary Help of Christians Catholic School for their child/children are encouraged to schedule a time to meet with the principal and to tour the school. The interview with the principal provides parents an opportunity to communicate important information about the child/children in regards to special talents, needs, interests, as well as social, physical, and emotional characteristics. The principal uses this important information in order to place younger students in classes which will provide the most appropriate match of teacher to student.

Parents living outside the Aiken area are encouraged to schedule a phone interview. Personal and phone interviews may be scheduled by calling (803) 649-2071 or contacting the office at office@stmaryschoolaiken.com.
To be admitted, a registration application must be completed and fee paid. Copies of the following documents must accompany the registration application:
Fill out:
Enrollment Application
Student Information Form
Provide:
Birth Certificate
Immunization Records
Report Card - most recent
Baptismal Certificate (Catholic applicants only)
Record of IEP or 504 Plan (if applicable)
Standardized Test Results
Copy of custody agreement or adoption papers (if applicable)
Copy of court issued parenting plan (if parents are divorced)
Acceptance/Placement is dependent upon receipt of all documents and satisfactory performance on required placement test. Please contact the office to schedule the placement test.
Submit your application and student intake forms online!
---
2022-2023 PAYMENT OF FEES AND TUITION
Registration fees and tuition must be paid through FACTS. If your family is new to the school, a FACTS ParentPortal account will be created for you. Once you receive your username and temporary password, log on to ParentPortal. Then, use the financial tab to create a new FACTS financial account and schedule payment for the 2022-2023 school year. Returning families will use their existing username and password. FACTS will deduct indicated payments from your bank account, or, for an additional fee, you may elect to pay by credit card. At this time, DO NOT SEND CASH OR CHECKS. (St. Mary's School will pay the FACTS registration fee for each account.)

Registration Fees
The Registration Fee is $200 per child.
The registration fees are payable to FACTS in full when the account is open.
Registration fees are not refundable.

Tuition Assistance
Families applying for tuition assistance are required to apply for assistance online in the Financial tab of your ParentPortal account. Applications and required supporting documents should be submitted to FACTS by March 1, 2022. Families registering after March 1 should contact Mrs. Webster, principal, to request assistance.

Tuition Structure
Tuition for the 2022-2023 school year is shown in the chart below. St. Mary Help of Christians Catholic Church will continue to subsidize the tuition for Catholic children whose families are active members* of St. Mary Help of Christians Catholic Church. Those active members* may also receive the multi-child discounted tuition rates. Second children will receive a 20% discount, third children will receive a 40% discount, fourth children will receive a 60% discount, and fifth children will receive an 80% discount.
For the 2022-2023 school year, the discount for non-Catholic multi-child families has been maintained at a 5% discount for second children, a 10% discount for third children, a 15% discount for fourth children, and a 20% discount for fifth children.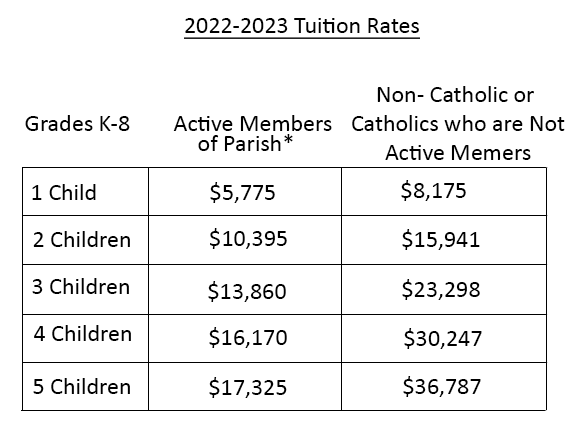 * Registered, attending, contributing, members of St. Mary Help of Christians Catholic Church or another parish.
Active members of Catholic Churches other than St. Mary's should provide membership, attendance, and financial records at time of enrollment.
Tuition Payment Plans
Tuition may be paid by one of four methods: (l) prepayment in full on August 8, 2022. (2) payment in two semester payments on August 8, 2022 and January 9, 2023; (3) by twelve monthly payments, July 2022 - June 2023; (4) or by 10 monthly payments, August 2022 - May 2023.
Active parishioners of St. Mary Help of Christians Church receive a discounted tuition rate. "Active parishioner" is defined as one who is a registered member of St. Mary Help of Christians Church, attends Mass on Sundays and Holy Days, and contributes to St. Mary's Church using personal checks, on-line giving, or the envelope system. An affirmation of active parishioner status is required annually. In addition to at least one parent being registered, attending, and contributing, the child/children attending St. Mary's School must be Baptized and members of the Catholic Church.